Dear reader,
In this Ibsen Photonics Newsletter we address a wealth of different applications across all our product lines. For instance, the first section on our high efficiency PING gratings addresses such wide application areas as telecom wavelength selective switching, Raman spectroscopy, optical coherence tomography, and fiber optical sensing.
With one of the unique advantages of our fused silica transmission gratings being unmatched energy and power handling capabilities, this newsletter will include an update on the latest field results on this subject, which is especially relevant for users of our Phase masks and pulse compression gratings.
The section on our new 256 OEM Interrogation monitor showcases a product where we have used our 1550 nm PING gratings to build a highly compact, efficient, robust and cost efficient optical sub-module for integration into your Fiber Bragg grating sensing system.
Finally, recognizing that budgets are tight, we launch an end-of-year campaign offering all universities and R&D labs 20% discount on two of our most popular ROCK spectrometers in the VIS and NIR spectral ranges.
I hope you will enjoy reading the newsletter.
Kind regards, Thomas Rasmussen, VP Sales & Marketing
High efficiency gratings for your low light applications
Ibsen Photonics gratings offer more than 90% diffraction efficiency for both polarizations within the popular 850 nm, 1060 nm, 1310 nm, and 1550 nm wavelength ranges.
If you are involved in developing systems for any one of the following applications: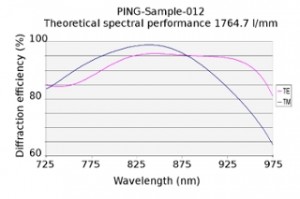 Raman spectroscopy
Spectral domain OCT
Fiber Bragg grating sensing
WSS – Wavelength Selective Switches/ROADMs
Tunable filters
PING Grating graph
…take a closer look at our telecom PING gratings or eXtreme Efficiency spectrometer gratings and learn that the Ibsen gratings offer you the markets best broadband performance in terms of high diffraction efficiency, low polarization dependent loss, and environmental stability.
If you are looking for more than just the grating, Ibsen Photonics can also offer robust OEM-modules for both fiber sensing, Raman spectroscopy, and OCT.
How much power can they take?
Newest results on power handling capabilities of Ibsen Phase masks and pulse compression gratings
Ibsen phase masks and pulse compression gratings love being blasted by short, high energy laser pulses and high power CW beams. But just how much power can they take?
Recently provided test results from ICFO have identified a long sought after damage threshold level of our gratings. With 40 femtosecond, 785 nm pulses, damage started occurring at 24.4 TW/cm2. It was furthermore identified that the damage occurred in the fused silica material itself, and not the grating structured surface, which thereby demonstrates the high integrity of the surface-relief grating.
A full test report can be found at High Power, which also includes other results at other wavelengths, pulse lengths etc. We update this page as new results come in – please let us know if you have blasted our gratings with higher energy/power levels than those shown – we are more than happy to include and reference your results.
The I-MON 256 OEM Interrogation Monitor
Compact, cost efficient wavelength monitor for 1550 nm.
Ibsen Photonics has added this new interrogation monitor to our extensive I-MON series in the 850 nm, 1310 nm, and 1550 nm wavelength ranges.
The I-MON 256 OEM uses Ibsen Photonics' highly efficient PING gratings in a compact, patented configuration with a cost efficient InGaAs detector array. Click here for more details.
Special offer for Universities and Research Laboratories
Buy our high efficiency ROCK Visible or Near Infrared spectrometers before Christmas and get 20% off the list price!
Ibsen's ROCK spectrometers offer you the best in performance:
Extremely high efficiency: 3-4 times higher optical throughput than most comparable spectrometers
Athermal and robust performance
We have purchased key components in high volumes for two pre-configured NIR and VIS ROCK spectrometers complete with slit, software, and input fibers, and so are able to sell these at very attractive prices:
ROCK VIS (380-770 nm) for only 2,206EUR (2,988USD) per unit.
Click here to see the detailed specifications and how to order.
ROCK NIR (1065-1700 nm) for only 6,240EUR (8,700USD) per unit.
Click here to see the detailed specifications and how to order.