I-MON High Speed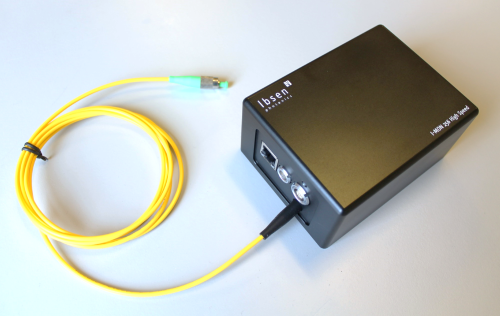 The I-MON 256/512 High Speed is designed for demanding applications requiring high speed, real-time analysis while maintaining sub-picometer wavelength fit resolution. With its EMC shielded housing and reinforced fiber, the I-MON is highly rugged and well-suited for both industrial applications as well as lab-type experiments.
High Speed Measurement Example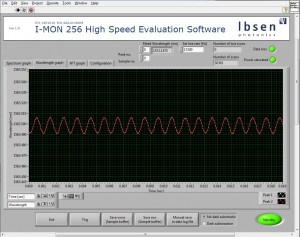 To demonstrate the capabilities of the I-MON 256 High Speed, Ibsen has made a measurement of the wavelength modulation from a piezo actuated FBG sensor with a 1 kHz tone. As seen from the picture to the right, the I-MON 256 High Speed resolves the modulation perfectly.
Product Selector's Guide
| Parameter | Unit | I-MON 256 HS | I-MON 512 HS |
| --- | --- | --- | --- |
| Wavelength | nm | 1525-1570 | 1275-1345 / 1510-1595 |
| Max number of sensors | - | 37 | 70 |
| Number of pixels | - | 256 | 512 |
| Wavelength fit resolution | pm | <0.5 | <0.5 |
| Wavelength linearity | pm | 5 (typ) | 5 (typ) |
| Max speed | Hz | 35,000 | 17,000 |
| Size | mmxmmxmm | 124x94x59 | 124x94x59 |