Whether you buy one of our standard spectrometers or a customized variant, Ibsen Photonics provides extensive integration support throughout your product development.
Our goal is to help you complete your project as quickly, smoothly, and successfully as possible. Below, you can find a list of documentation and services we offer to ease your instrument development, integration, and testing. Please, fill out our convenient forms to request additional information or services or ask a support question. You can also send us an email at support@ibsen.com and describe your request as accurately as possible. If you are interested in a quotation for one of our spectrometer products please, use our quotation request form or send an email to inquiry@ibsen.com.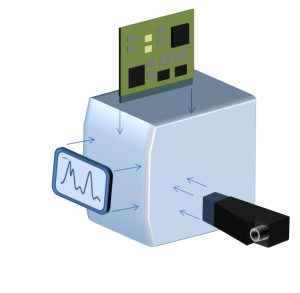 Product specifications
Our product specifications provide detailed information such as detector options, grating efficiency, resolution versus slit width, and electronics and software options.
Technology tutorials and design guides
On our technology pages, you can find tutorials, design guides, and calculator tools that can help you understand and select various components and parameters in the spectrometer system.
Mechanical
For all our spectrometers we offer dimensional drawings, 3D step-files, and mounting guides that you can use in the mechanical design of your instrument.
Electronics
Many of our spectrometers can be supplied as an optical bench with direct access to the detector pins which enables you to build your own electronics. Alternatively, all our spectrometers can be supplied with digital controller electronics.
Software
Our spectrometers come with software interfaces as described on our spectrometer software page. The software and software development kits can be downloaded from our web page upon request.
Support service
Ibsen aims at responding to any request from you within 24 hours anywhere in the world on all work-days. Often you will have a response within a few hours. This service is free of charge for all our customers and doesn't require any service contract.
Services
Ibsen can offer various paid services like:
Optical design of your light delivery and sample collection optics
Mechanical design of (part of) your instrument
Special testing according to your requirements