Pulse Compression Gratings
Fused Silica Transmission Gratings – unbeatable energy/power damage threshold combined with high-efficiency spectral performance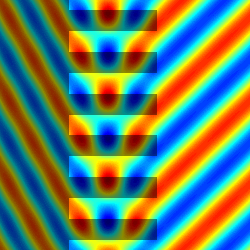 As femtosecond laser systems advance to ever-increasing energy levels, demands on the energy/power handling capabilities of pulse compression gratings increase. Ibsen manufactures 100% fused silica Pulse Compression Gratings that offer unbeatable energy/power handling capacity, combined with high-efficiency, low wavefront distortion performance.
Features and Benefits
100% Fused silica gratings provide the highest energy/power damage threshold, also in the UV
Environmentally and thermally stable
High diffraction efficiency
Available for 1030-1064 nm and 800 nm – or custom wavelengths
Low wavefront distortion
Low stray light
Products
We produce pulse compression gratings to custom specifications, but also offer the following grating types as standard products:
Ordering
On-line ordering is possible via the product links above, or request a quotation here.