Grating Polarizer for Variable Attenuation of Ti: Sapphire Lasers
For high energy, ultrafast laser applications, common polarizer technologies used for variable attenuation do not fulfill the complete set of requirements to extinction ratio, transmission level, bandwidth, transmitted wavefront distortion, GDD ripple and energy handling capability. For these applications, and initially developed solely for Ti:sapphire wavelengths, Ibsen offers a unique, grating-based polarizer. The polarizer is 100% fused silica, with the polarizing grating being a surface relief, etched grating structure with no thin-film coatings of any kind.
Configuration
The grating polarizer transmits close to 100% of the incoming TM (p) polarized light, while the TE(s) polarized light is diverted into other diffraction orders (primarily -1T but also a few percent into reflected orders.)
In order to use the grating polarizer as a variable attenuator, either rotate the grating or the incoming, linearly polarized light so that the ratio of TM:TE provides the wanted attenuation.
Grating Specifications
| Parameter | Specification |
| --- | --- |
| Central wavelength of operation | 800 nm |
| Angle of incidence | 59.5 deg (nominal, to be rotated for optimal contrast and for attenuation) |
| Non-deflected polarization | TM (p) |
| Extinction ratio 0T (TM:TE) | >50:1 (contact us for >100:1) |
| Transmission 0T (TM) | >95% (contact us for >99%) |
| Material | 100% fused silica, no thin film coatings |
| Grating size | 36 mm x 18 mm |
| Substrate size | 38 mm x 20 mm |
| Substrate thickness | 1 mm |
Grating Performance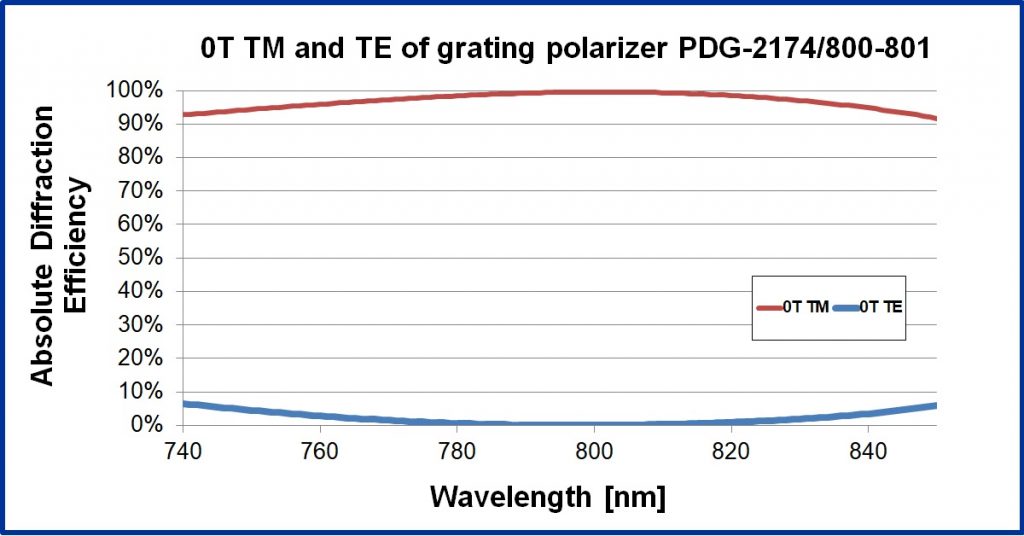 Ordering
The PDG-2147-800-801 is available for online purchase by either Credit Card or wire transfer, or you can contact us for a quotation for volume discount.
Download Product Sheet

Ibsen-Product-Sheets-PDG-2147-800-801