Spectrometer Gratings
Ibsen Fused Silica Transmission Gratings enable high resolution, high efficiency gratings that are ideal for compact spectrometers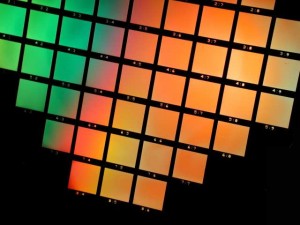 Ibsen offers a line of spectrometer gratings spanning from UV bandwidths over VIS to NIR bandwidths, and also offers custom design of gratings for your OEM application. Production utilizes proprietary, cost-effective Holostepper technology, allowing the manufacturing of holographic, 100% fused silica Master gratings at prices previously only possible for replicas.
Features and benefits
Holographic stepper patterning technology combines the highest quality of holography with the reproducibility and cost level of replicated gratings.
100% Fused silica gratings provide unbeatable temperature stability, environmental tolerance and power damage threshold – including UV
Grating resolutions up to 5000 l/mm
High diffraction efficiency with high dispersion
Low polarization dependence (PDL) over broad spectral range
Combined wavelength dispersion and folding elements
Multiple prototyping, small and high volume production technologies
Class 10 cleanroom production ensures low noise and high cleanliness – as well as a controlled environment for Ibsen's extensive metrology capabilities.
Extensive grating metrology including proprietary period measurement systems, a versatile diffraction efficiency measurement system, a high resolution defect inspection system as well as AFM/SEM ensuring that agreed upon specifications are fullfilled.
Products
In addition to OEM grating supply, Ibsen offers a full line of standard spectrometer gratings which are available from stock:
The full Ibsen grating portfolio comprises 4 different grating types that may be suitable for various spectrometry applications – the full range is shown here: