Fused silica transmission gratings
Our white paper on fused silica transmission gratings, the technology on which Ibsen's grating products is based
The white paper is located at the bottom of this page in downloadable .pdf format. Should you have difficulty downloading, feel free to contact us using the dialogue options at the top right of this page, we will be happy to e-mail you a copy.
More information about the author
Kristian Buchwald is M. Sc. E. E. from the Technical University of Denmark and has been working with fused silica transmission gratings since 1995.
Contact information
Kristian Buchwald
Ibsen Photonics
Ryttermarken 15-21
DK-3520 Farum, Denmark
E-mail: kjb@ibsen.com
Telephone: (+45) 4434 7000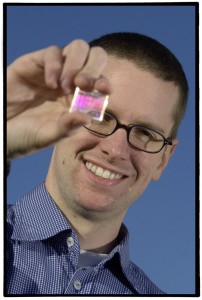 Kristian Buchwald with a fused silica transmission grating
For further information see below.