Ibsen's compact and flexible spectrometers are based on three basic platforms described here. The designs are athermal, robust, and have very high efficiency due to the usage of Ibsen fused silica transmission gratings. The spectrometers are offered in a wide wavelength range from 178 nm to 2500 nm.
The MGM platform uses two mirrors and a transmission grating and is ideal for compact and/or low-cost spectrometers like FREEDOM.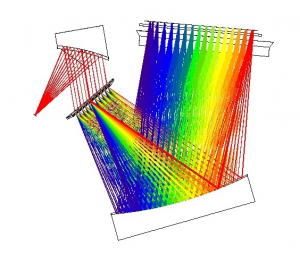 The LGL platform uses two lenses and a transmission grating and is the optimum choice for spectrometers requiring high efficiency/throughput like the ROCK and EAGLE spectrometers. This platform provides typically the best imaging of the input slit/fiber array onto the detector due to the near on-axis beam path through the lenses. Spectrometers for Raman spectroscopy and Spectral Domain-OCT will often be based on the LGL platform.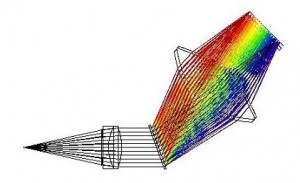 The LGGM platform uses a lens, two transmission gratings, and a mirror and provides a very high-resolution spectrometer in an extremely compact form factor. This platform is used in our I-MON interrogation monitors for instance.
For further information see below.