[h2]Digital Micromirror Device[/h2]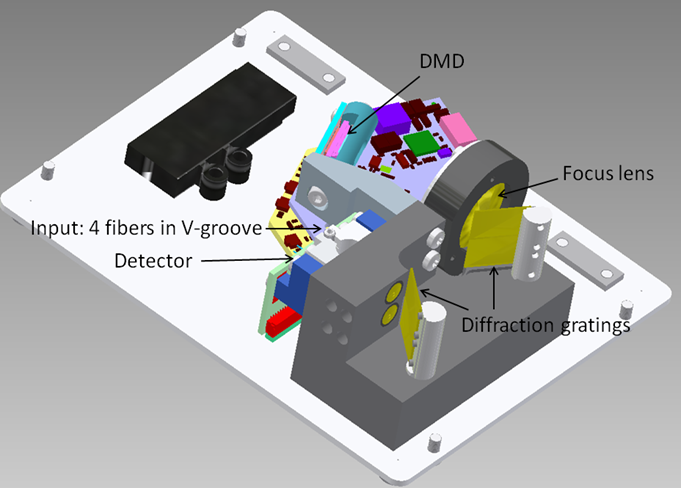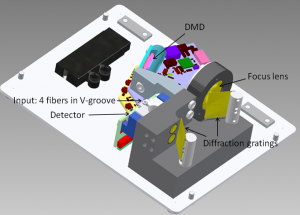 Fiber Bragg gratings (FBGs) have become more and more attractive in recent years because they are small, cost effective, easy to manufacture and insensitive to electro-magnetic interference.
The basic principle of FBG sensing is to measure the reflected spectrum and to track the FBG peak positions.
Due to the availability of low-cost tele-communications equipment, the most common and commercially available FBGs work in the 1550 nm range.
However, this requires use of expensive 1550 nm InGaAs array detectors to interrogate the sensors.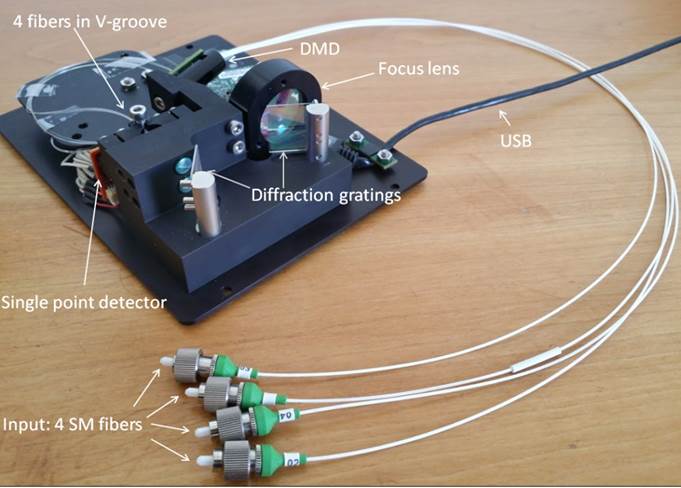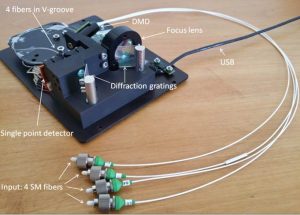 In this newsletter, we present a novel type of multichannel MEMS based spectrometer, where the linear detector is replaced by a Digital Micromirror Device (DMD).
The DMD is typically cheaper and has better pixel sampling than an InGaAs detector used in the 1550 nm range, which leads to cost reduction and better performance.
Our measurements show that DMDs can replace standard InGaAs array detectors in high resolution spectroscopy and can be used in industrial-grade applications.
Since the DMD is a 2D array, multichannel capability has been implemented without any additional optical components in the spectrometer.
In addition, the digital nature of the DMD provides opportunities for advanced, programmable spectroscopic techniques, such as Hadamard spectroscopy, which greatly increase the SNR and wavelength fit resolution.
If you are interested in hearing more about the multichannel MEMS based spectrometer, you can meet Ibsen at this year's International Conference on Optical Fiber Sensors in Korea next week, or contact us directly here.
[h2]The 25th International Conference on Optical Fiber Sensors (OFS-25)[/h2]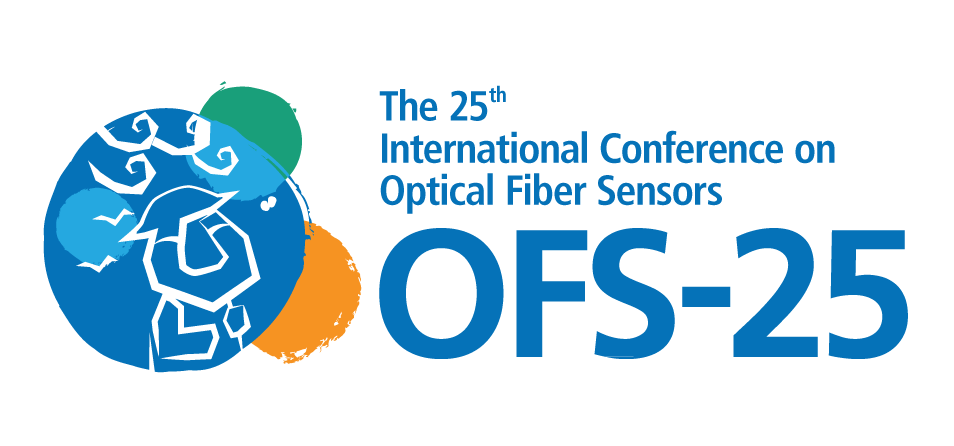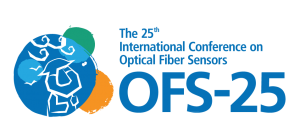 Ibsen will be present at booth no. 9 at the Maison Glad Hotel in Jeju, Korea, during April 24-28, 2017.
Here Dr. Bjarke Rose, VP of Spectrometers, and Dr. Denis Ganziy, Optical Design Engineer, will be more than happy to answer any questions you might have.
In addition, Dr. Denis Ganziy will give a presentation about "Compact Multichannel MEMS based Spectrometer for FBG Sensing" in the Convention Hall (1F) on Tuesday April 25, 2017 at 14:43-14:55.
For more information about where else to meet Ibsen around the world, please click here.
We hope to see you in Korea.