Detectors for HPLC is the focus of this post, where we will get around HPLC and our FREEDOM UV-VIS spectrometer, which is a suitable UV detector for HPLC.
We often hear that instrument manufacturers are constantly faced with the challenge to develop new instruments that offer the end-user:
Higher productivity through faster measurements
More compact instruments
Lower power consumption
Better thermal stability and ruggedness for out-of-the lab applications
At Ibsen we believe that we can help solve some of these issues – if not all of them, with detectors for HPLC, e.g our FREEDOM UV-VIS. But first, what is HPLC?
High Pressure Liquid Chromatography
High pressesure liquid chromatography (HPLC) is a technique that separates material in a chemical sample so that each component can be measured and quantified. The sample material is analyzed by pumping a liquid phase (solvent) mixed with the sample through a column packed with a solid phase material. Each component in the material responds differently to the absorbent material, causing the constituents of the sample material to separate and come out of the column at different times. Out comes first the material that binds well to the liquid phase, and lastly the material that binds well to the solid phase.
HPLC is used for either purification or measurements detecting the presence of various constituents in a sample. As an example, it can be used in the pharma industry, where HPLC is very useful for measuring the level of active drug in a given material.
Close to 90% of all HPLC systems use a UV detector to measure the concentration through absorbance spectroscopy. Ibsen offer spectrometers with a Diode-Array-Detector (DAD), which is the fastest and most versatile form of UV detector. You can read more about HPLC here.
FREEDOM as your UV detectors for HPLC
A number of our spectrometers are very well suited as diode array UV detectors for HPLC, including our compact FREEDOM UV-VIS spectrometer and we believe that this spectrometer can help instrument makers to solve the following challenges:
Higher productivity through faster measurements
More compact instruments
Lower power consumption
Better thermal stability and ruggedness for out-of-the lab applications
Regarding shorter measurement time, based on our surface relief transmission gratings, it is possible to offer highest possible diffraction efficiency, which means that more photons reaches the detector and thereby allows you a short integration time. Our FREEDOM UV-VIS spectrometer has a foot print of only 48 mm x 54 mm x 16 mm and due to our high diffraction efficiency, the power consumption is low.
Since our transmission gratings are made in fused silica, there will virtually be a zero temperature dependence which make the spectrometer very rugged – a benefit for especially portable and field usage.
Our FREEDOM UV-VIS spectrometer is a compact and cost-efficient spectrometer module for OEM manufacturers of analytical instruments that do not want to sacrifice performance and robustness for compactness.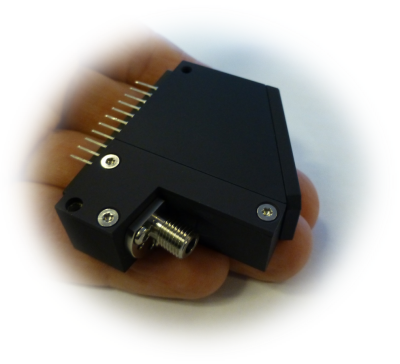 FREEDOM UV-VIS is built on an innovative new type of transmission grating developed by Ibsen Photonics that provides high diffraction efficiency for both polarizations from 190 to 850 nm. Furthermore, the FREEDOM UV-VIS spectrometers support many different detector systems which enable you to choose the best detector option for your specific application. FREEDOM even allows you to re-use already developed electronics and software for your favorite detector type.
For more information on our spectrometers, please find documentation, white papers, technical notes and forms to request a quotation on our website. For face-to-face time with our experts, please visit us at exhibitions around the world.