Compact, light weight and cost efficient
The I-MON DISB Interrogation Monitors are designed for customers who want to operate the I-MON via a reliable industrial interface. The DISB electronics is interfaced via SPI and can be connected directly to the customer's microprocessor-based control electronics.
The DISB electronics convert the analog video output from the detector to a 16-bit digital signal that can be read over the SPI interface. It offers software and hardware trigger control, onboard averaging, region of interest, and advanced lamp control.
The I-MON 256 DISB and 512 DISB are based on our OEM series using a high speed InGaAs detector array for sensing at 1550 nm. The I-MON 256/512 DISB uses the same electrical interface, making it easy to use the same software to control either device.
The I-MON 835 DISB offers a cost-effective, yet high performing, sensing solution for 835 nm FBG's.
All our I-MON DISBs are offered with a Developer's Kit to get started plug and play.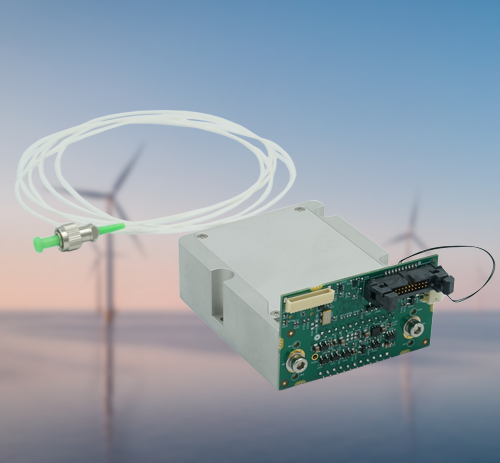 Parameter
Unit
I-MON 256 DISB
I-MON 512 DISB
I-MON 835 DISB
Wavelength
nm
1525-1570
1510-1595
810-860
Max number of sensors
-
37
70
45
Interface
-
SPI
Diode array
-
Hamamatsu G11620 series
Hamamatsu S11639N-01
Number of pixels
-
256
512
2048(*)
Max speed
Hz
5,000
2,500
600
Size
mmxmmxmm
78x58x36
84x58x36
83x71x43
(*) Only 1024 pixels are illuminated
I-MON DISB with Developer's Kit
Enables Plug-and-Play Operation with the I-MON DISB
The I-MON DISB Developer's Kit will demonstrate the performance of the I-MON DISB in an easy manner without the need for hardware interfacing and tedious programming from the customer's side. It enables the customer to use the I-MON DISB with its own light sources and FBG sensors using a PC as a monitor and thereby test the basic performance via standard spectrometer software.
Package content
The I-MON DISB Developer's Kit contains the following items:
Interface- and trig cables

Quick guide with a download link for software and manuals
For further information see below.