For immediate release
Press Release, Farum, October 29, 2019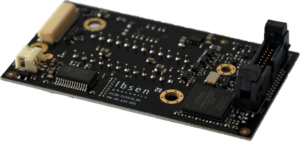 Ibsen Photonics (www.ibsen.com), the global leader in fused silica transmission gratings and industrial grade spectrometer modules, today announced two new electronics options. The first being an upgraded version of the OEM electronics for their spectrometers and the second is a new, fast, and compact DISB-USB Bridge board.
Digital Image Sensor Board (DISB) 101T is an upgraded version of the current DISB-101S and comes with an SPI interface, which makes it ideal for easy integration into your instrument. It offers fast read out – up to 4800 Hz for 256 pixels – and configurable external trig input with +/- 10 nsec jitter delay. Furthermore, a new lamp control function has been added, as well as the possibility for remote firmware upgrades over the SPI interface.
Ibsen's new DISB-101T electronics supports the S11639-01 CMOS (2048 px), S13496 CMOS (4096 px), and S14739-02 CMOS (256 px) detector arrays from Hamamatsu and work with either Ibsen's FREEDOM 101/109 spectrometers or the ultra compact PEBBLE VIS 105.
The DISB-USB Bridge has a similar form factor as the DISB-101T and can be stacked on top of the DISB board. This enables a fast USB interface with a frame rate of up to 2000 Hz for 256 pixels. The DISB-USB offers free USB drivers for almost any operating system through the use of a standard FTDI FT4222H chip.
For complete information about the spectrometer electronics options please visit https://ibsen.com/products/oem-spectrometers/spectrometer-electronics/
For additional information please contact:
Pernille Kennedy
Sales and Marketing Coordinator
Telephone: +45 4434 7000
Email: Pernille.Kennedy@ibsen.com
About Ibsen Photonics
Ibsen Photonics is the global leader in holographic, fused silica transmission gratings and spectrometer modules for a wide range of telecom, analytical, sensing, and laser markets.
Ibsen Photonics is privately owned with FOSS A/S holding 85% of the shares and the rest owned by employees. Headquarters are in Farum, Denmark. For more information please visit www.ibsen.com.