Ibsen Photonics' I-MON Interrogation Monitors set new standards for fast, real-time spectrum monitoring of FBG sensor systems.
Through a unique combination of very fast measurement frequency, low power consumption and compact size, they are ideally suited for a broad range of applications. The I-MONs offer straightforward integration and meet industrial qualification standards.
Principle
The FBG sensor is a short piece of optical fiber with a periodic modulation of the refractive index in the optical fiber.
The periodic modulation of refractive index is generated by the interference pattern created from the phase mask, and it creates a narrow filter response with peak reflectivity at a wavelength determined by the period of the FBG.
A broadband source such as a super luminescent diode (SLED) or an amplified spontaneous emission (ASE) source can be used as light source for the FBG sensing system.
When the FBG is mounted on a structure, it may be stretched or compressed due to structural changes of the structure. This causes a change in the FBG period, and the peak reflectivity of the FBG is shifted accordingly to λi+Δλ. Each fiber can contain a multitude of FBG sensors all having different peak reflection wavelength.
Determining the peak reflection wavelength and shift in peak wavelength is the basis of FBG sensing, since measurement of the reflected wavelength can be converted to parameters such as strain, pressure, vibration and temperature. The I-MON Interrogation Monitors are designed to measure the reflection spectra from the FGB sensors, and will provide data to the control electronics or PC for peak determination.
Features
The compact size and simple electronics interface makes the I-MON Interrogation Monitors ideal for direct mounting on the customer's interrogation system control PCB.
The I-MON series has the following features:
Fast measurement frequency

Environmentally stable fused silica gratings
Applications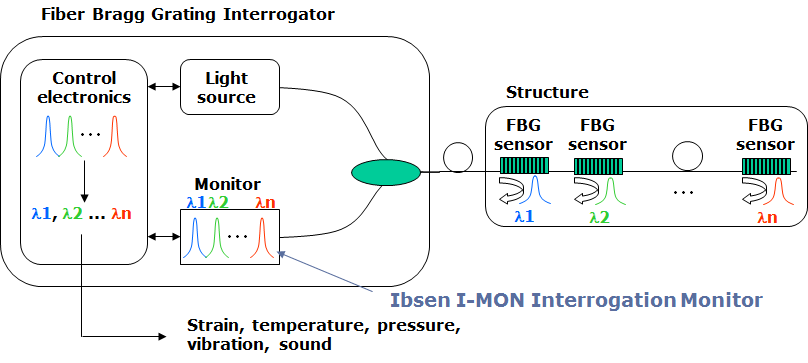 Interrogation monitor
platforms
We offer our I-MONs in 4 different series. Below you can find help to identify which of our I-MON series that best suits your needs. Each series can be provided in different wavelength ranges, 1550 nm as the most common, 1310 nm and 835 nm. In addition, we offer a broadband light source with built-in circulator and USB control for plug-and-play operation.
For further information see below.