I-MON 256 USB
I-MON 256 USB Interrogation monitor (1525-1570 nm) offer real-time spectrum monitoring of FBG sensors. The USB series is based on the I-MON 256 OEM series. Adding our USB interface makes it possible to acquire spectra with up to 6 kHz, while maintaining sub-picometer wavelength fit resolution.
Data acquisition software provides easy setup with a laptop, and the I–MON can act as a stand-alone monitor in combination with a customer-selected light source.
Stand-alone Interrogation Monitor and/or OEM Interrogation Monitor Modules:
Temperature measurements

Pressure monitoring

Strain measurements

Vibration analysis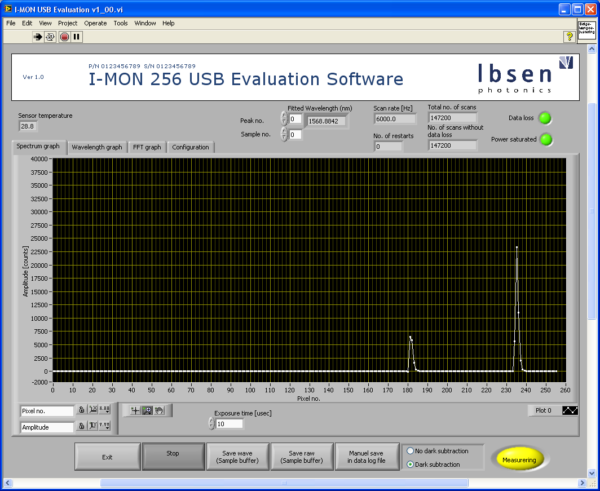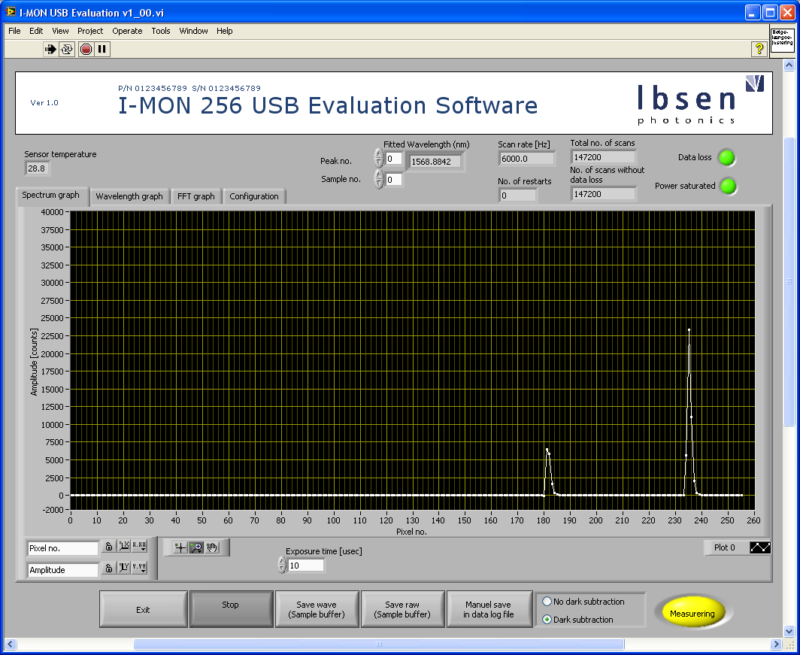 I-MON 256 USB Evaluation software
The I-MON USB comes with evaluation software providing plug-and-play operation. LabVIEW source code is included with the evaluation software along with DLL and drivers for OEM integration.
The I-MON Evaluation software will demonstrate the performance of the I-MON USB in an easy manner without the need for tedious programming from the customer's side.
An example from the Evaluation software is illustrated here. The spectrum graph screen of the Evaluation software illustrates the pixel response from the image sensor of the I-MON, i.e., the FBG sensor peaks. Other screens are available for configuration, wavelength fit, and FFT analysis. The software allows the user to save raw data as well as wavelength fit data for further processing with external software programs.
For further information or to request a quotation please contact us.