PING-Sample-003
PING C-band telecom grating
Product Specifications
| Parameter | Specification |
| --- | --- |
| Grating technology | Surface relief, etched transmission gratings |
| Production technology | Holographic/lithographic stepper and RIE etching |
| Grating resolution | 940 l/mm |
| Illumination bandwidth | 1526 nm - 1566 nm |
| Angle of incidence | 46.6 deg (nominal - see plot below which shows great AOI tolerance) |
| Diffraction efficiency (TE & TM) | > 90% |
| PDL | < 0.25 dB |
| Materials | 100% dielectric materials |
| Grating area | 19 mm x 13.5 mm |
| Chip size | 21 mm x 15 mm |
| Chip thickness | 0.625 mm |
Typical grating Performance: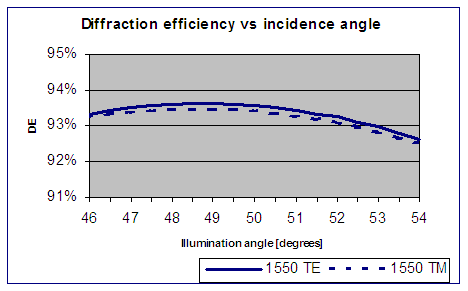 Download Product Sheets

Ibsen product sheet – PING-Sample-003
Ordering
This grating is available for an online purchase by Credit Card or wire transfer:
Please contact us for volume pricing.
We are also happy to work with you to design optimal grating for your OEM requirements. Click here to specify your requirements for a discussion or quotation.