PEAK XNIR Spectrometer
Fast and Compact DMD based NIR spectrometer modules for the extended near-infrared range
PEAK NIR spectrophotometer utilizes IBSEN's high efficiency fused silica transmission gratings combined with the Texas Instruments's (TI) DLP® technology in order to provide the spectral programmability.
Contact Ibsen to get more information
NIR Spectrometer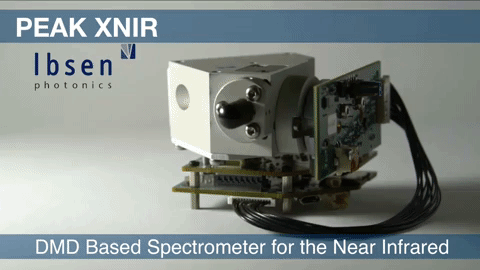 With PEAK you can control the relative power and exposure time independently for each wavelength in your spectrum. PEAK is supplied with control electronics and uses Ibsen's Evaluation Software for Windows with advanced column and Hadamard scan functions for improved signal to noise ratio. PEAK XNIR is well suited for Process Analytical Technology (PAT) because it offers real-time in-line monitoring and measurements for near-infrared spectroscopy.
Key Features of PEAK XNIR Spectrometer
1650 to 2400 nm wavelength range
Numerical aperture of 0.22
TI DMD (MEMS mirror array) technology
Resolution: 10 nm (typical)
Fast, cooled InGaAs detector
SMA fiber adapter and USB 2.0 electronics interface
Compact footprint of 63 mm x 50 mm x 77 mm
Products
Product
Detector
Benefit
PKX-901
Hamamatsu G12183-210K
Cooled InGaAs PIN Photodiode
High throughput, fast speed, compact size
See a similar product for the extended near-infrared wavelength range (1100-2200 nm), ROCK XNIR Spectrometer RSX-465 here.
Test it yourself!
We understand that it can be hard to judge the performance of a spectrometer just from the data sheet. Therefore, we offer a time limited loan of a demo unit to customers that meet certain criteria.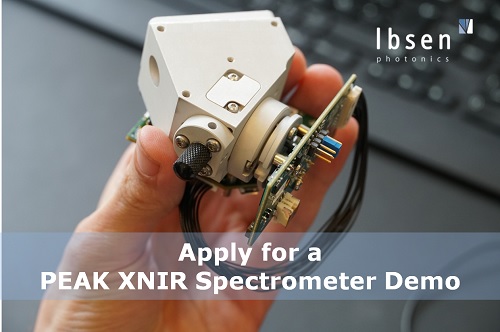 Download Product Sheets

Product Sheet – PEAK XNIR Spectrometer 1650 – 2400 nm
Related Article