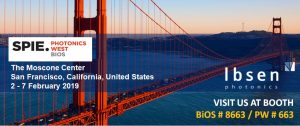 BiOS Feb. 2-3, Booth #8663 | Photonics West Feb 5-7, Booth #663


Ibsen Photonics will be at the SPIE BiOS/Photonics West trade show in San Francisco from February 2nd to February 7th 2019.
Our technical experts in OEM Spectrometers, FBG interrogators (I-MONs), Phase Masks, Pulse Compression gratings, Telecom gratings, and Spectrometer gratings will be there, giving you the unique opportunity to speak with them directly about your photonics projects.
Dr. Thomas Rasmussen will be giving a talk on "How to Use Ibsen Photonics' Free Spectrometer Design Tool " on Saturday, February 2 at 10:30 am and Tuesday, February 5 at 11:30 am in the demo areas on the exhibition floor.
Click here to request a meeting with any of our experts.
We hope to see you in San Francisco at our booth #8663 (BiOS) or #663 (PW).
Kind regards,
The Ibsen Sales Team:
Thomas, Henrik, Heidi, Lars, Bjarke, Kristian & Marco