JENCOLOER SpectroNet Collaboration Conference
Are you curious to learn more about Ibsen Photonics and our products? If so, meet our DACH region key account manager, Marco Liepelt, at this year's JENCOLOR SpectroNet Collaboration Conference 2019 in Jena, Germany.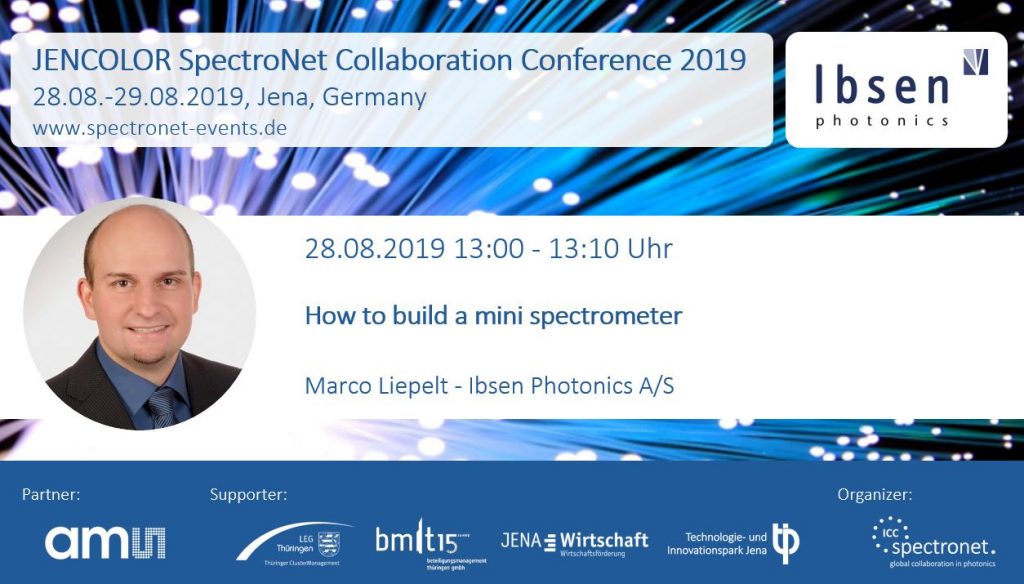 He will be sharing his knowledge during the event with his talk about "How to Build a Mini Spectrometer" which will take place on August 28, at 1pm.
Stop by CIOE or EMSLIBS in September
In the beginning of September, you can also find Ibsen at the annual CIOE 2019 in Shenzhen, China, where our grating expert and local distributor will be welcoming you to the Danish Pavilion.
A week later you have the opportunity to meet our spectrometer expert and our Application Specialist who will both be at EMSLIBS 2019 in Brno, Czech Republic.
We are looking forward to seeing you in either of these countries. If you want to book a meeting for a specific time, please go ahead and send us a meeting request here.