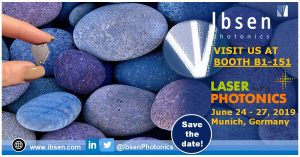 Thomas Rasmussen, VP of Sales & Marketing, Marco Liepelt, DACH Region Key Account Manager, Pernille Kennedy our Sales and Marketing Coordinator and Bo Velschow our newest key account manager will be present at Laser World of Photonics in Munich, Germany this month. The exhibition runs from Monday, June 24 to Thursday, Jun 27.
You can come and have a chat with us at our booth B1.151 and see a selection of our OEM spectrometers. PEBBLE VIS – our newest and smallest spectrometer product will be on display. So, make sure you swing by and see how tiny it is!
Book your appointment here.
See you in Munich!
The Ibsen Sales Team:
Thomas, Pernille, Marco & Bo