Absorbance spectroscopy is a molecular spectroscopy method that uses the wavelength-dependent absorption characteristics of materials to identify and quantify specific substances.
Many molecules absorb ultraviolet or visible light emitted from a broadband light source. The absorbance is related to the concentration of the materials in the sample such that stronger absorbance means higher concentration.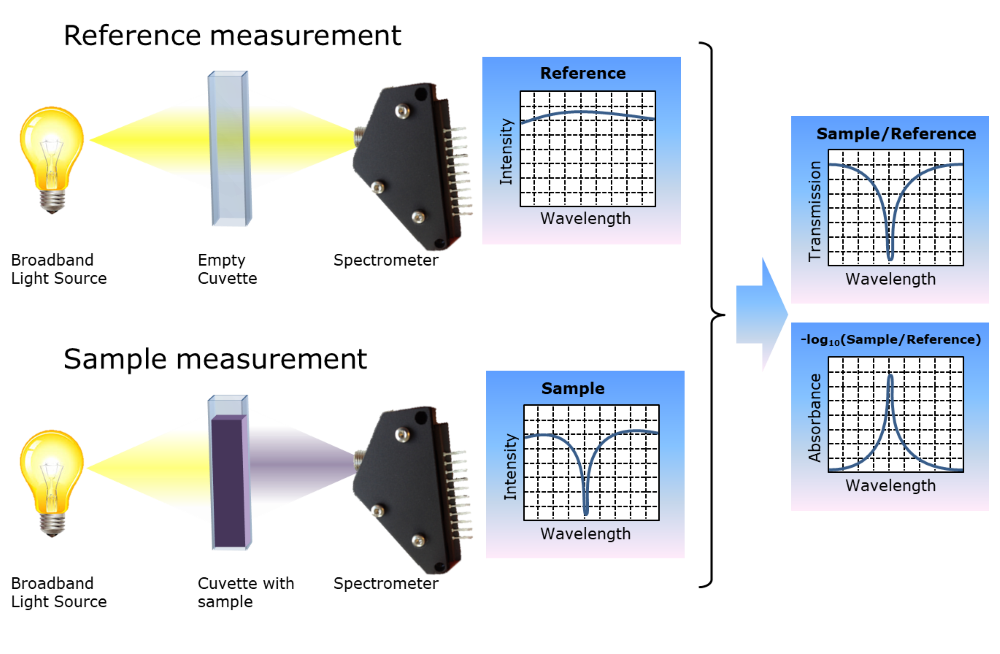 There are many different approaches for measuring absorption spectra. The most common one is to point a generated beam of light at a sample and detect the intensity of the radiation that goes through it. The energy that is then transmitted is used to calculate the absorption.
Find the right spectrometer for your absorbance instrument
Absorption spectroscopy covers many different applications. It can, for example, be the characterization of printer ink and pigments by determining which parts of the visible spectrum is absorbed, air quality measurements by looking at the UV, VIS, and NIR portions absorbed by pollutants and other forms of gas, and it can be the characterization and process control for food- and chemical industry. With the different platforms and configuration options offered by Ibsen, it is possible to find a suitable spectrometer for all of these applications.
When choosing a spectrometer for absorption spectroscopy you first need to determine which wavelength range provides you with the most relevant information. With the different Ibsen spectrometers, you will be able to cover from the DUV-region (178 nm) all the way through the visible spectrum to the extended NIR range at 2200 nm. If you need a wide range of high resolution, you may have to use several spectrometers. For this, the high-performance compact spectrometers of the FREEDOM series will be well suited. The FREEDOM series covers both high-resolution variants (FREEDOM HR), and wide-range versions.
See more about the spectrometer examples below:
Often, absorption spectroscopy is used to continuously monitor processes, for example during drug production in the pharma industry. In such applications, it is important that the spectrometer is not sensitive to vibrations, and that it is long-term stable without needing recalibration all the time. Ibsen's robust spectrometer design uses highly efficient transmission gratings, which ensures that mechanical and thermal disturbances are rejected. In cases where a long integration time is required, some of our spectrometers are available with temperature-stabilized detectors. This ensures a very low, and predictable, contribution from the detector's dark current.
Different detectors are available (see our detector selection guide), which allows customers to tailor the spectrometer to their illumination setup. In some cases, there is very little light available, and a high sensitivity detector is preferred. And with other types of samples, there is no shortage of light, allowing a smoother output signal to be recorded. Ibsen can help you select the ideal detector for your application, based on your balance between measurement time, required signal-to-noise ratio, and price.