In-line plasma separation from blood using acoustofluidics
On this page we present results of in-line plasma separation from blood using acoustofluidics and compact spectrometers to analyse hemolysis and bilirubin. The tests were done jointly between Acousort and Ibsen Photonics.
Overview
Separation of plasma from blood is an important process in the clinic. Typically, the separation is done using a centrifuge which makes the blood sample preparation time consuming and often leads to variability in the results.
By using acoustofluidics the separation can be done in-line and with a high degree of consistency.
The picture to the right shows blood flowing though a tiny AcouPlasma cell from Acousort that can perform the separation in-line.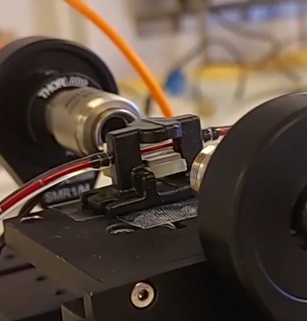 How it works
In the AcouPlasma device, acoustic forces are used in combination with microfluidics to separate whole blood samples and open a cell-free plasma window. This enables access to the blood plasma in-line and with-out the need for centrifugation.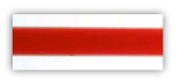 Sound OFF: Channel filled with undiluted whole blood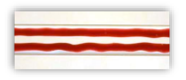 Sound ON: A window of clear plasma opens in the channel center
Measurements set-up
In order to test the performance of the AcouPlasma cell for absorbance measurements we tested the following blood samples:
from a 60 years old male which should have very little bilirubin,
centrifuged blood
hemolyzed blood.
Below, is a picture of the set-up we used to obtain absorbance spectra of the blood using our tiny spectrometers FREEDOM VIS and PEBBLE VIS. A Halogen/Deuterium light source was used for illumination and off-the-shelf optics and fibers were used to guide/collect the light to/from the AcouPlasma cell.  translation stages was used to aligned the 0.1 mm plasma channel to with the optical beam.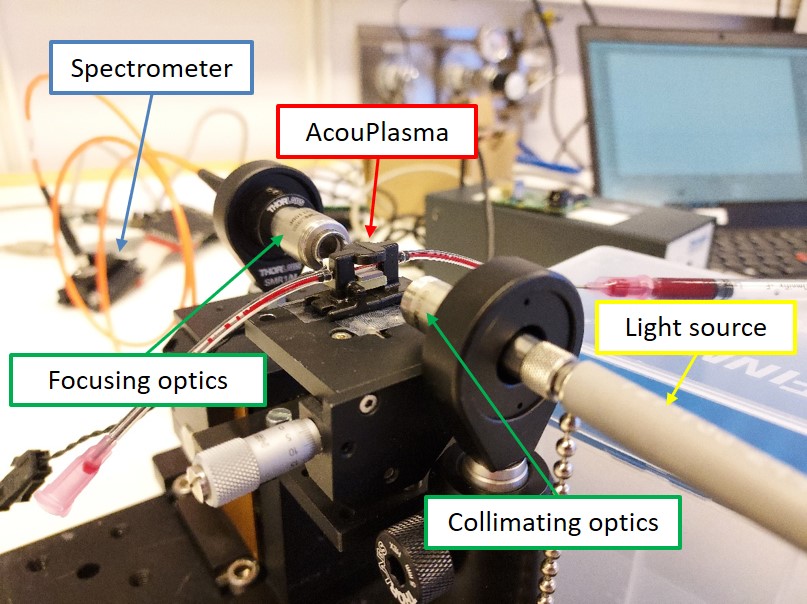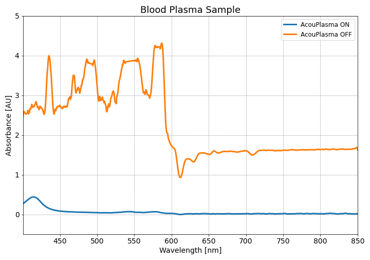 The graph above proofs the basic idea. The orange spectrum is the absorption spectrum in non-separated blood which clearly shows strong absorption below  600 nm making the blood look red. The blue curve shows that the channel is virtually transparent once the sound is turned on.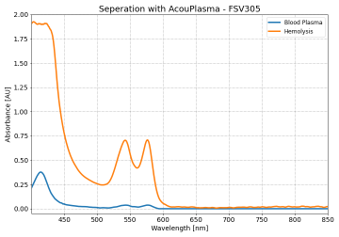 Another example showing a comparison of blood plasma and hemolyzed blood.
For further information see below.