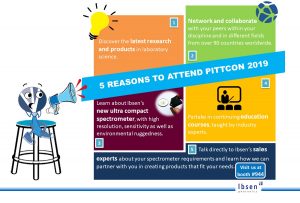 Pittcon, March 19th – 21st, Booth #944 | Pennsylvania Convention Center

Next stop: Philadelphia, Pennsylvania. At the annual Pittcon exhibition, we will have our new ultra compact PEBBLE VIS OEM spectrometer on display at booth #944.
PEBBLE VIS offers a cost effective and low risk solution for manufacturers of handheld and portable spectroscopy instruments for applications such as fluorescence and color measurements.
Our sales experts in OEM spectrometers will be there, giving you the unique opportunity to speak with them about your photonics projects. Thus, if you are going to Pittcon 2019 be sure to stop by and check it out at booth #944. For complete information about this new PEBBLE VIS spectrometer, click here.
We hope to see you in Philadelphia at the Ibsen booth #944.
Kind regards,
Ibsen's spectrometer expert sales team:
Pernille and Heidi