Ibsen Photonics has added nine new Pulse Compression Gratings to our stock available line-up of 100% fused silica transmission gratings for high-power femtosecond laser pulse compression. These gratings cover a broad range of wavelengths from 675 nm to 1030 nm, grouped in the following grating types: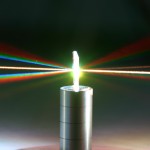 Just like all Ibsen's gratings, this new 100 % fused silica transmission gratings provide the highest energy/power damage, including UV, high diffraction efficiency, low wavefront distortion, low stray light, and environmental and thermal stability.
120 mm long PCGs
As femtosecond laser systems advance to ever-increasing energy levels demands to the energy/power handling capabilities of pulse compression gratings increase. Ibsen manufactures 100% fused silica, transmission, Pulse Compression Gratings that offer unbeatable energy/power handling capacity, combined with high-efficiency, low wavefront distortion performance.
Now, production advances allow Ibsen to supply pulse compression gratings up to 120 mm in length.
You can always get the latest updates on our website or by visiting us at the photonics industry exhibitions, where Ibsen will be presenting its Pulse Compression Gratings together with its other products – Phase masks, Telecom gratings, Spectrometer gratings, Interrogation Monitors for FBG sensor systems and OEM spectrometers.
You can see where Ibsen exhibits here.
For additional information please contact:
Pernille Kennedy,
Sales and Marketing Coordinator
Telephone: +45 4434 7000
Email: pernille.kennedy@ibsen.com